Oregon Coasts Commitment To Going "Green" -- 03/21/2012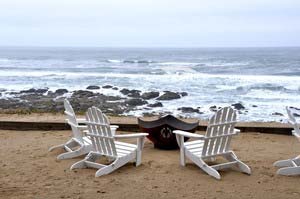 Travel and tourism is one of the world's largest industries in operation today. With the year's impending close, reflecting back on the nearly 1 billion tourists who explored the world in 2011, there's an increasing importance for travelers to be conscious of their impact on the earth whilst on their journeys. Yet, in the midst of the rising popularity of going "Green" and the trend of being environmentally friendly, it is easier to travel responsibly and with an effort to preserve and protect the environment of the place you're visiting.
On the Oregon Coast, we are blessed with incredible surroundings– beautiful land, as well as a thriving ocean, and a rich culture. We have a special duty to our area because of the delicate eco-systems and environments that share our habitation. As a locally-owned and operated hotel, we strive to help our visitors join in on this responsibility towards intentional conservation. We do this in many ways. We have implemented continuing programs to conserve natural resources, reduce waste and minimize pollution. In partnership with the Green Hotels Associations, following is a sample of a few of the initiatives The Coho Oceanfront Lodge has committed to in being a "Green" hotel:

- Low-flow sink aerators and low-flow showerheads
- 1.6 gpm toilet or toilet adaptations
- Fluorescent energy-saving lighting
- Amenities – 100% natural, soy-based ink, vegetable-oil base, and dye-free
- Paper products – recycled, biodegradable; No Styrofoam usage
- Cleaning products and laundry detergents – nontoxic, phosphate-free, biodegradable and recycled packaging
- Hot water – 125-130 degrees F (52-55 degrees C)
- Linens changed between guests or on request only (towels on floor or in tub)
- Bamboo-blended towels – natural antibacterial and moisture-wicking qualities
- Extra blankets – room can be kept colder on winter nights if guests prefer
- Recycling program in place; Recycling notice for guest involvement
- Glass water glasses (not plastic)
- Cloth laundry bags (retired sheets)
- Digital heating thermometers
- Hydronic heating system

Although traveling to and exploring new places and cultures is a positive endeavor, the potential harmful effects of tourism can have both local and global reaches. Traveling green is an important and essential way to care for the places you love to stay, preserving them for others to enjoy for years to come. As an added bonus, reducing your traveling footprint often makes for a more satisfying and authentic experience. With a mindful approach to travel, you are able to form deeper connections with the people and places you visit. As part of this endeavor, before traveling, research your choices available for Eco-friendly lodging. "Green" hotels are environmentally-friendly properties whose managers are eager to institute programs that save water, save energy and reduce solid waste. At The Coho Oceanfront Lodge on the beautiful Oregon Coast, we are committed to do our part and make a small difference in making this a better, greener planet.